Regardless if you're a direct mail newbie or a veteran mailer, you've probably heard of it. But what is Every Door Direct Mail (EDDM) and what should I know about it?
Let me share some information about the nature of EDDM mailings and how you can use it to market more effectively.
What is Every Door Direct Mail?
Every Door Direct Mail, or known as EDDM, is an affordable service provided by the United States Post Office, which allows you send a mail piece to every house on selected routes at the lowest postage rate without purchasing a mailing list or bulk mail permit.
The post office requires the mail piece to have the following requirements:
Minimum size: 6.125 inches high x 11.5 inches long or more than ¼ inch thick
Maximum size: 15 inches long x 12 inches high or ¾ inch thick
It can be a card, folded self-mailer, or an envelope with the same size specs as above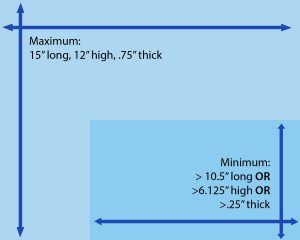 What are the Advantages and Disadvantages?
EDDM provides some strong benefits to the mailer. Let's take a look at some of them:
You can saturate neighborhoods and zip codes at a postage rate as low as $.17 each
You can select routes by averages of age, income, or household size
Ability to mail a large mail piece, sure to grab a recipient's attention.
Because you can select carrier routes for free, you don't need to purchase a mailing list.
On the other end of the spectrum, there are some disadvantages to EDDM:
Since you cannot address the piece, it can feel impersonal
You can't select individuals, so you may be mailing to people with no interest in your product or service.
It costs more to print, as the pieces are bigger than your average postcards
How to get Started on an Every Door Direct Mail Campaign:
First, on the USPS website, select the desired routes and map out who you're wanting to mail. Once complete, you can filter by average age, income, and household size.
Second, send us the the route and recipient information, and we'll take care of the required paperwork to get your piece in the mail.
Third, send us your designed mail piece. Or, if you need help with design, let us know and we can design the piece for you.
Fourth, decide on a date to mail your EDDM, and we'll put it in the mail on that date. It's really that simple!
To launch your next EDDM mailing, give us a call at 800-624-3622 and one of our customer service representatives will take care of you.