Whenever I'm drawn in by a book's flashy cover or edgy title, my mind hearkens back to my grade school librarian, Mrs. Gabriel: "Alex, don't judge a book by its cover." She was right – the best books often have the worst covers or titles. But while her advice works in the book world, it does not apply to direct mail.
In direct mail, the people receiving your mail pieces ARE judging. And the covers aren't cardboard rectangular covers. They're envelopes – the "covers" of your direct mail piece.
Your envelope is like the first sentence of a book. The whole message hinges on that first sight. Your envelope might contain sales dynamite inside, but it'll never detonate if your customer doesn't open it. So spend ample time crafting each part and parcel.
Here are four questions to consider before mailing an envelope:
Do you want to use a stamp or permit?
What kind of font do you want to use?
Will it have teaser copy to entice the reader to open it?
What size do you want it to be?
Stamp or Permit?
We've found that when mailing an envelope, using a stamp has a better open-rate than a permit. Stamps are warm and welcoming; permits are cold and corporate. Do you want to be in the ranks of banks, mortgage lenders, and utility companies? Probably not, right? If you want to sell your product or service, choose a stamp.
Now, choosing what kind of stamp … that takes more thought. Is there a stamp consistent with your brand? Do you want to appear professional? Do you want to present yourself as a friend? Are you a non-profit company looking for donations? What kind of postage rate do you want to mail at? These are some questions to consider when deciding. The USPS offers a variety of stamps. You're sure to find one or two that fits your brand. Oh, and here's a pro tip: place the stamp on slightly crooked. It's more human. We've done this for customers, and while it requires a little more time and setup, it's worth it.
The Font
After you decide on a stamp, select a font that stays consistent with the message you are trying to send. If your tone is more formal, then choose one that gives that appearance. But if you are trying to imitate a personal letter, then definitely choose a handwritten font. Modern technology has blessed us with a plethora of handwritten fonts that can be applied using machine. You can choose an elegant font like the ones on many envelopes for weddings invitations. Or you can choose a font that resembles the signature of a harried doctor. There are even fonts that resemble the scribblings of children. And like the stamp, you can rotate the address block at a slight angle to make the envelope feel more human.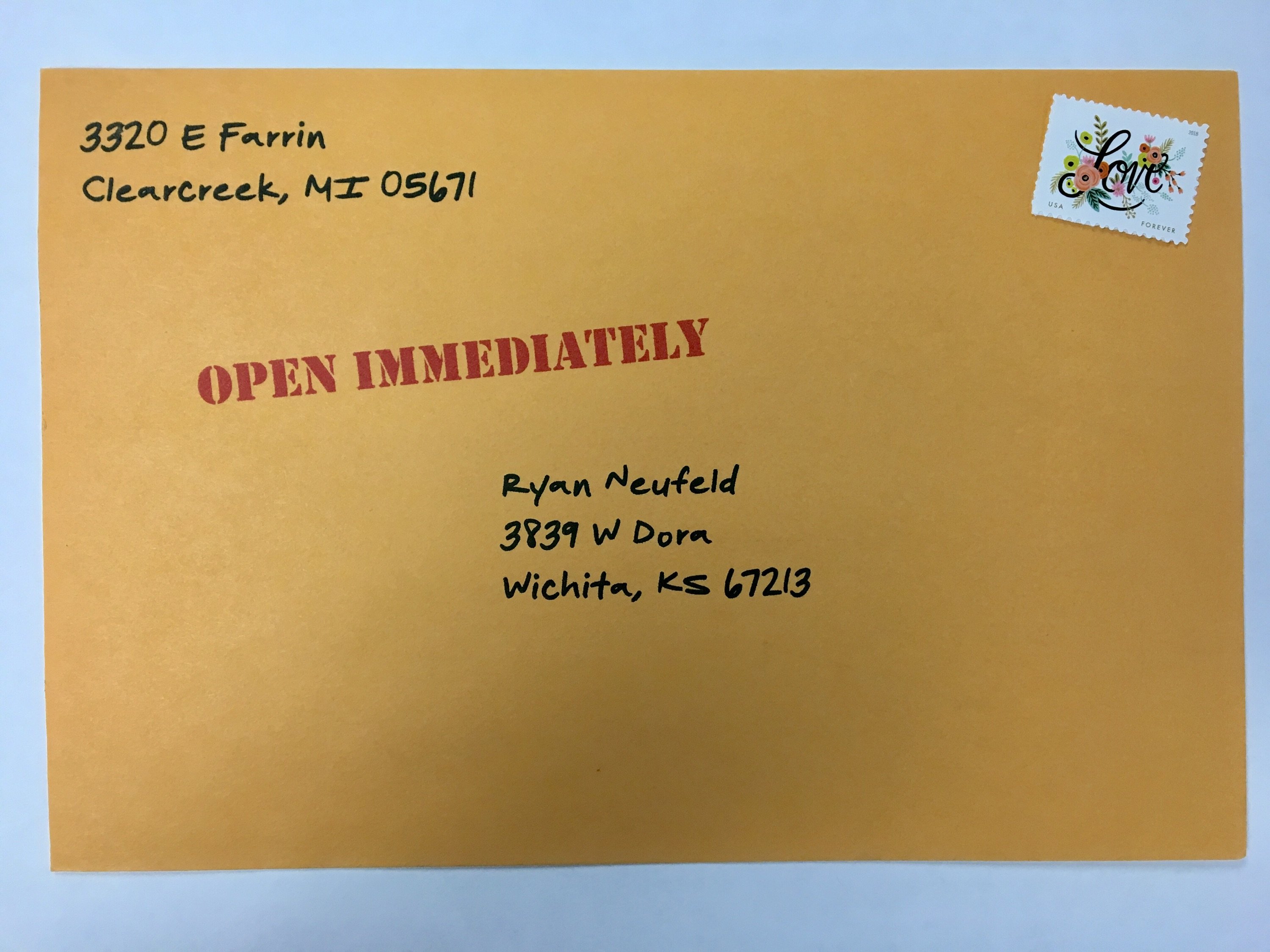 Example of an envelope with a handwritten font, teaser copy and a stamp.
Teaser Copy
You may want to consider using teaser copy for your envelope. This can persuade your customer to open your envelope. We've seen thousands of different teasers over the years, and our customers continue to use them with success. Don't overdo it though. If you present teaser inconsistent with your sales piece, you risk losing the recipient's trust, which will kill the whole sale. Use teasers that persuade them to open, but also present an honest message about the contents inside. And try using variable data in the teaser like, "Hey, Dave, check this out!" The more personal the teaser, the higher the chance for a better open rate.
Size
The size of the envelope matters. Bigger is often better; these types of envelopes are easier to notice, and they'll stand out among the other mail. We've even used FedEx envelopes before to market our company, and we encourage our customers do the same. They work, because governments and banks often send their documents in this way. They do cost more, however, so calculate your potential return on investment carefully. On the other end of the spectrum, consider sending a really small envelope. Like the one you would receive a note card in from your grandma.
Just remember this, whatever you decide for the envelope needs to stay true to what message you are sending with your mail piece. Keeping a unified tone with your piece allows the reader to develop trust with you and your package. So when in doubt, always let that be the deciding factor for your decision.
There's more that can be said about mailing an envelope, so subscribe to our blog to make sure you don't miss another post!