---
Are you thinking about posting content to promote your business? Has your team considered launching a blog, podcast, or a YouTube channel?
Get started today. The internet empowers you to publish content for free, promote it for cheap, and create meaningful interactions with your tribe online.
But this leads you to your biggest problem: where to find ideas for good content.
Besides direct mail, you need to find other ways to contribute to your marketing mix.
A weekly blog sounds great, but finding things to write about does not. Podcasts are cool, but what could you possibly talk about for a half hour? This is a natural response, so don't worry. As a marketer, this can be daunting because it already sounds like more work than you have time for. But don't stop reading yet! I'm here to help you discover five places in your business where helpful content is already hiding.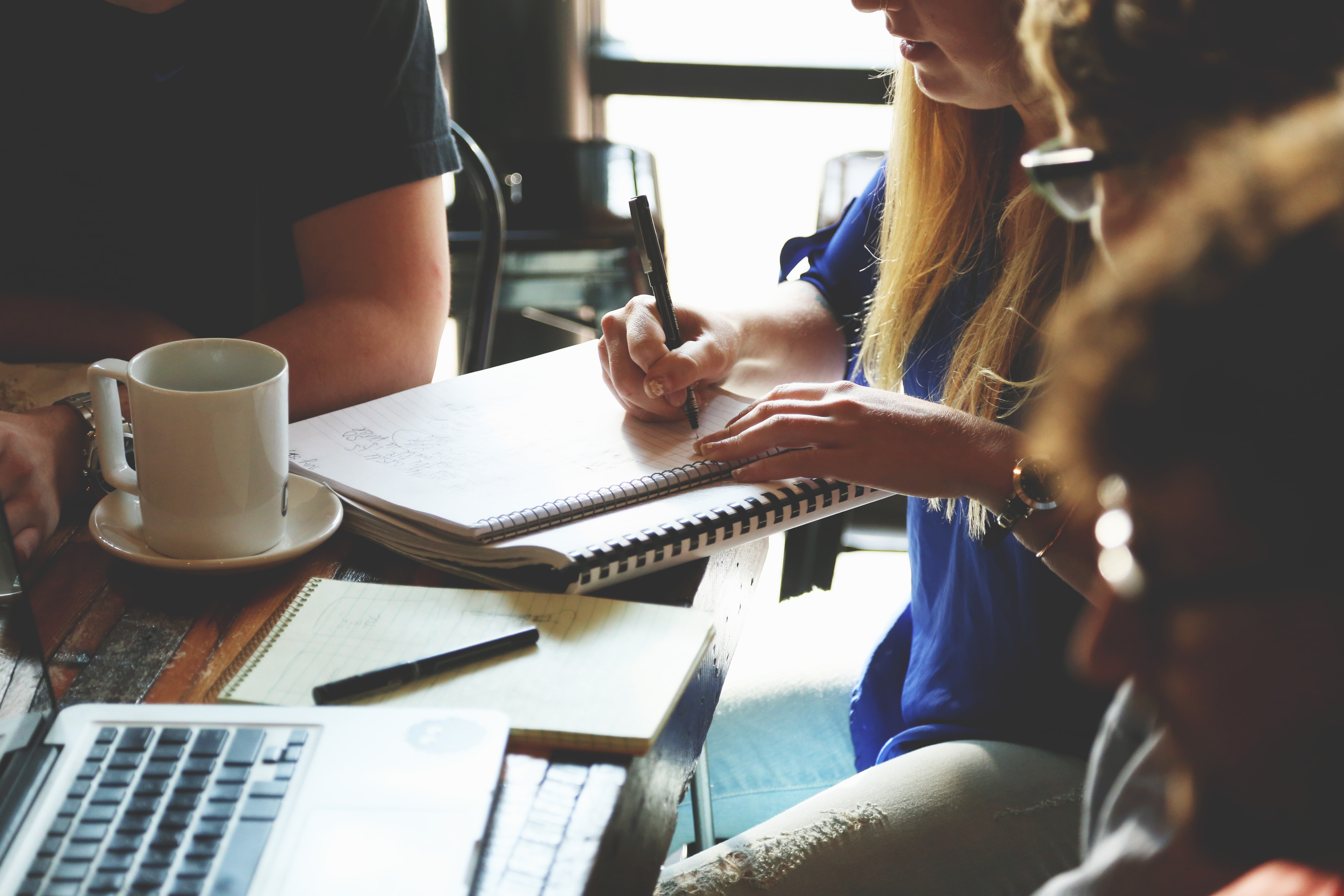 Sales Team
If your company has a sales team, or someone who heads up client acquisitions, chances are there's a mountain of content already hiding in their inboxes and call notes. Here are four ideas of content you can create alongside your sales team.
Compare competitors prices against yours. Crunching numbers for your customers brings them a ton of value, and creating a comparison chart is the way to go. From here, own the space you're in: whether you're the most premium, the best value, or the most affordable, take that angle and run.
Compare competitors features against yours. Comparing features is a great way to help potential customers see the value in your product. Bring value to them by comparing everyone's features and positioning yours as the best value.
Address the biggest pushback your salespeople receive. Whether it's "not enough time", high costs, or confusion about the value, take time to make the case for why your product is still totally worth it.
Empathize with customers' fears. When seeking a business solution, there's a lot of fear involved in that investment. Don't minimize these fears; instead, address them head on by creating content that recognizes and dispels them.
Marketing Team
Take stock of your existing marketing assets and create content with that. Here are examples of how you can create content around existing demographics and emotional appeals:
Intrigue your prime demographic with interesting content: Start by taking a peek at your prime demographic descriptions. What's the common age, gender, income, business type, and goal of your few main customer segments? Once you realize this, it becomes easy to drive traffic and build trust by publishing helpful resources. Holiday recipes, exercise ideas, sales tips–it's endless. You're probably someone who makes marketing decisions for your business, and look what we're doing with this blog. Think of how you can help your prime demographic and earn their trust.
Rally behind your customers: What are your customers goals? How can you help them achieve and celebrate their goals? If you create content about your customers achieving their business and personal goals, it shows you care. Did a client achieve a notable ROI with your product? Acknowledge that. Did a customer receive a notable accolade? Celebrate that. To maximize these celebrations, make sure they're in line with your prime demographic's deeper emotional goals.
What's the common age, gender, income, business type, and goal of your few main customer segments? Once you realize this, it becomes easy to drive traffic and build trust by publishing helpful resources.
"What's the common age, gender, income, business type, and goal of your few main customer segments? Once you realize this, it becomes easy to drive traffic and build trust by publishing helpful resources."
Customer Service Team
If your company has a customer service team, or at least someone who manages accounts, they have tons of insight that can bring you great content. Collaborate with them on the following:
Dispel fears by discussing your return policy. Often, the fear of not being able to get a refund keeps people from buying. By creating content that clearly lays out your generous return policy, you'll be able to help people take the leap.
Create clear expectations for customers. Team up with customer service to understand what people expect from your product, and what expectations are often not met. Create content that helps customers know what to expect in each phase of your product, as discontent often comes from unmet expectations rather than a dysfunctional product.
Keep customers focused with a checklist. We understand exactly how our products and services work when implemented correctly. But our customers don't always see that step-by-step plan. Checklists are great ways to help customers see the plan and follow through, making it easier for them to buy, then get results when they do.
Check up on your customers with automated emails. Nothing is worse than making a purchase and then hearing nothing. Collaborate with your customer service team to create a set of automated emails that remind people you're there to help.
Curate existing success stories. Your business helps people live and work better. So tell those stories! You likely have dozens of satisfied customers whose lives you've enriched. Curate these testimonials by focusing on the transformation that took place for the customer, and how they felt at each stage of the process. By focusing on emotional reactions, you'll encourage leads to ditch their fears and become happy customers.

The Founders
The founders of your company have more insight and passion than anyone else. So why not go straight to the faucet for your content? Schedule a meeting with them and get ready to document it all.
Share the story of how it all started. Schedule a casual lunch with the founders, and try to uncover the heart of how it all began. Ask them what problems they were trying to solve, what obstacles they had to overcome, and some of their favorite moments working in this business. By transforming these stories into blogs, podcasts, or videos, you'll create powerful moments for your customers and your staff.
Compare your current products with the founder's original goals. Sometimes we can get caught up in the details of the business and then forget how our products have accomplished the company's goals. Create content about how your current products have stayed true to their original mission. Or, if things have changed a fair amount, make a timeline explaining how the company has adjusted to always keep its customers first.
Existing Products
Being hyper-specific about your products is a great opportunity for content. It may seem redundant, but if you follow an investigative approach, you'll make the value of your product completely clear.
Clarify "what" your product is. Help people visualize using your product by explaining what it is, from a practical perspective. Flashy marketing language often leaves our customers confused about what our products actually do. Explain what your product actually can accomplish in 3-5 easy steps. And keep it practical.
Explain "why" your customers need the product. Identify the main problem your product solves and explain why that problem deserves to be solved. Often, customers continue living with a problem because they don't know the value the solution will bring. Ask them to imagine their lives with the solution, then position your product as the ticket to that life.
Identify "who" the product is for. Unless you're selling oxygen, your product is not for everyone. Some businesses won't benefit from your service and some people will find no need for what you're selling. That's okay, because the sooner we realize who your product isn't for, the sooner we can find the people who can't live without you. Identify the main customer segments who use your product, and show that you made something just for them.
Demonstrate "how" to use the product. When customers can see the product in action, they begin to imagine themselves using it. This is the first step in good marketing. If you sell physical products, this is pretty easy by creating tutorial or demonstration videos. If you sell services, explain the process of how your team works with theirs to come to a solution.
Advise "when" the best time to use the product is. When everything else seems correct about a purchase, often the question of "is this the right time?" sneaks in. By advising customers when the best time to buy or integrate your product is, you'll help them eliminate fear and set them up for success.
Learn more about how you can incorporate this content into your monthly newsletter.
Final Thoughts
Publishing this valuable content is the next big move for your business, because it creates a stronger company from the ground up. For years to come salespeople, customer service teams, marketers and the founders will all have resources to send out. If someone has a question, it's already been answered. If a customer is nervous to purchase, you've already empathized with that fear. If someone is looking for an authority in the marketplace, you have a backlog of documentation. The more places you exist online, the more value you bring, and the more your business grows holistically. And if you're focused on bringing real value instead of flashy content, it won't cost you very much at all.
Start creating today!