Have you ever left for work and suddenly remembered you forgot to lock the door? I know I have, and it's a nasty feeling. I can't focus on anything, knowing an intruder might be tearing my place apart and soon dash with my hard-earned property. It feels like things have slipped from my control.
You might feel something similar when you send mail through your mail house. You worry about a flurry of questions: Did the pieces make it to the post office? How do I know they mailed all the pieces? Did they mix my mail with another person's? Did they mail on the right date? If only you had verification – that's it. Then you'd have peace of mind and could finish the day knowing all's okay.
Just breathe. Relax. We got you covered. When you send a mailing out, there are a few ways to prove your mailing made it to the post office and mailed as promised. Here are three ways to know that your pieces mailed.
Postal Verification Form
For whatever postage class you're mailing, you'll receive from us a Postal Verification Form, an official document from the USPS that details a number of things about your mailing. It provides information about the number of pieces mailed, the mailer ID, postage class of mailing, postage cost, and much more. We receive this from the Post Office and are happy to send it to you at no extra cost.
Below is an example of a postal verification form.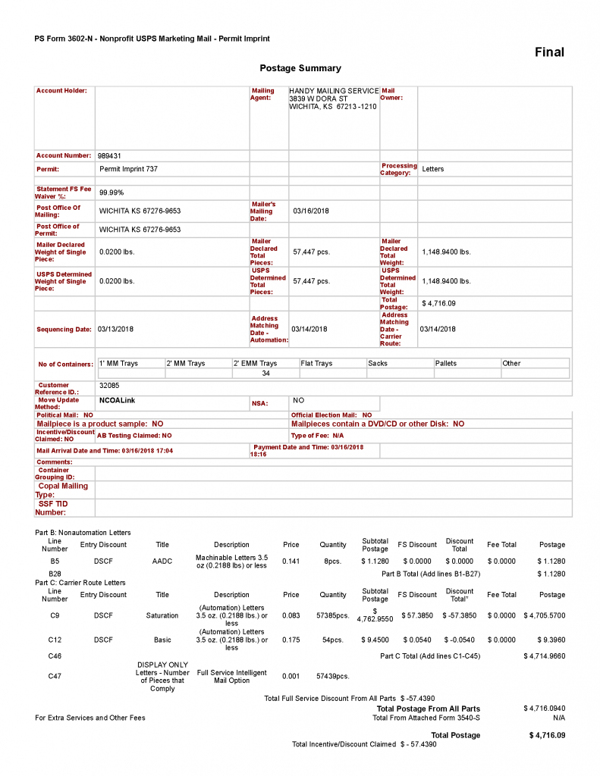 Seeding Your List
We also ask that before you send us your mailing list you put "seeds" in it. A seed is a name in your mailing list known only to you. These aren't necessarily people you want to market to, but just people who'll receive your mailing. You can make up a name or use a real name and have all the addresses go to a location where you can check on the mailing. Again, you don't need to tell us anything about these seeds; these are just for you to know that your pieces mailed. It also assures you that your pieces are produced with high quality and accuracy since you will received a "live" mailed piece.
Your Mailed List
After we run your list through our data processing software we can email you that mailed list if you would like. This is the same list we run your envelopes, your cards, your newsletters – whatever – with. And it matches the exact mailed count listed on the Postal Verification Form.
If you have any more questions or would like to know more about direct mail, check out our other blog posts here or give us a call. We'd love to chat.